The Millis Model Aircraft Club RC flying field is located on the grounds of the Charles River Reservation in Medfield, MA. Bill Martin Field is shared by MMAC with the Charles River Radio Controllers. All types of R/C aircraft may be flown here, although it's best suited for powered fixed wing aircraft.
Facilities include a well maintained grass runway, transmitter impound and frequency control board, four pilot stations protected by side fences, a spacious pit area and parking. There are no bathroom facilities.
Entrance to the field is restricted by a gate which remains locked at all times. Keys are provided to members and are rotated each year. Visitors are welcome but should first contact a club member or instructor and make arrangements for them to get their vehicle past the gate – or alternatively you could walk the 1/4 mile roadway to arrive at the runway to ask that a member open the gate. Do not drive along the railroad tracks.
Field Incident Report Form
We are required by the state to submit an Incident Report Form if any accidents, serious injury or conflicts with the law occur at Bill Martin Airfield.
What is a reportable incident? An accident resulting in personal property damage or injury to the pilot or other person is considered an incident. If police, fire department or local authority inform you that you are doing something in conflict with law or local ordinances…that is considered an incident. Minor personal injury (i.e. a small cut) minor damage to trees and turf are excluded. A noise complaint from a neighbor or a complaint from another pilot is not an incident.
MMAC Field Rules & Regulations
For the safety of others at the field whether fellow pilots, spectators or other visitors please follow the MMAC Club Field Rules & Regulations at all times.
You can also find the AMA SAFETY GUIDE for all types of aircraft here.
Drone Regulations
There's a federal law that describes how, when, and where you can fly drones for recreational purposes. You are considered a recreational user if you fly your drone for fun. It is important to know when and where you can fly and how to register your drone.
Following these rules will keep you and your drone safe and will help keep the airspace available to everyone.
Visit the Federal Aviation Association (FAA) Drone Zone website for more information.
Flying Hours
9:00 a.m. – Dusk
(seven days a week)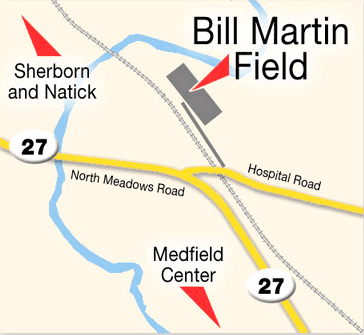 From The South, East or West
Take Route 109 east to Route 27 in Medfield Center. Then follow Route 27 North (North Meadows Road) for about 2.5 miles. Make a right at Hospital Road (Medfield State Hospital). The access road is on your left, just past the railroad tracks.
From The North
From Route 9, follow Route 27 South roughly 8 miles through Natick and Sherborn. About 1/2 mile past the "Entering Medfield" sign, make a left at Hospital Road (Medfield State Hospital). The access road is on your left, just past the railroad tracks.
Access Road Conditions
Graph Stage Level is Real Time
Use caution when traveling the access road
to the field after a period of heavy rain.
Level 2.5 ft Road passable
Level 3.0 ft Road passable-trace water on road
Level 3.5 ft Your feet will get wet if out of the car
Level 4.5 ft Road flooded 16+" water Travel at own risk
Level 5.0 ft Minor Flood Stage
Level 7.0 ft Moderate Flood Stage
Level 8.0 ft Major Flood Stage